May 19, 2023
Armidale turns Purple for DV Awareness
Purple has been proudly worn across the Armidale community during May, as part of Domestic Violence Awareness Month.
TFSS would like to acknowledge Armidale RAMs Junior Football Club and Crop Hair Design Guyra for helping support staff with awareness and community engagement initiatives.
TFSS Staying Home Leaving Violence Case Worker Cecily Cromie said there are many ways that the community can help support an end to domestic and family abuse, but it starts with acknowledgement.
"The first step is acknowledging the issue. Domestic and family abuse can impact families and communities in many ways. Creating awareness is made significantly easier when businesses, organisations and community groups working together, often through DV Steering Committees," said Ms Cromie.
Armidale RAMS Junior football club have decided to host an awareness round in the near future.
President Jess Smith was more than happy to support this initiative.
"We like our players tough, tough enough to say no domestic violence," said Ms Smith.
Board Member Christine was equally as supportive.
"The enemy doesn't stand a chance when the victim decides to survive."
Earlier this month, TFSS Staying Home Leaving Violence Case Worker Cecily Cromie hair was dyed purple by Cathy Mills, owner of Crop Hair Design Guyra.
Cathy Mills has been a hairdresser for over 20 years and is used to a conversation going into the deep and meaningful.
"It is well known that people will often confide in their stylist matters which they wouldn't even share with their best friend or partner. Sadly, I have rarely heard conversations relating to domestic violence come up in the chair unless it is tragically after the fact or even years later. I would love nothing more than to see this stigma change.
"Cecily and I have shared many stories and personal experiences with one another over the years relating to issues relating to domestic violence. I am so proud to support her and her wonderful team to bring awareness and change to the issues surrounding this broad and sadly widespread concern'.
In Armidale and surrounding areas, TFSS run the Staying Home Leaving Violence Program and the Women's Domestic Violence Court Advocacy Service (WDVCAS) across the New England Police District in partnership with Legal Aid NSW. From January to March this year, TFSS New England Women's Domestic Violence Court Advocacy Service (WDVCAS) has dealt with over 263 requests from women seeking support for different types of domestic and family violence.
If you require support for a domestic violence situation, please contact TFSS at 1800 073 388 or 1800 RESPECT.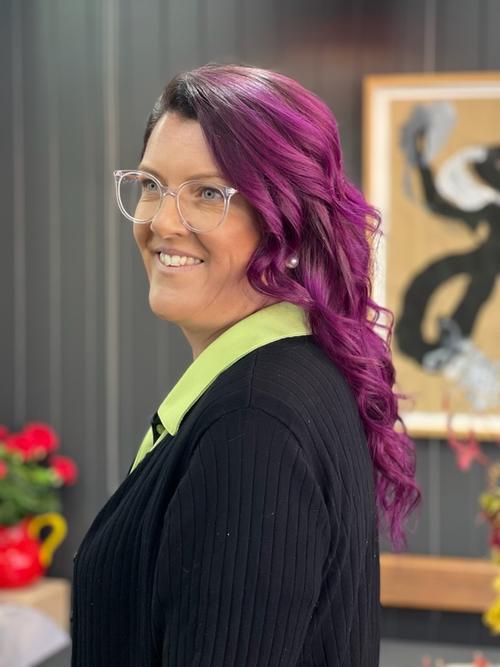 Photo: TFSS Case Worker Cecily Cromie proudly showing her Purple hair for DV awareness
Video: We are thankful for the support form Sportspower in Armidale to make these initiatives possible
---