November 07, 2023
State of the art emergency accommodation to support women and children escaping violence in Tamworth
Housing Plus and Tamworth Family Support Service (TFSS) are delighted to announce their partnership to construct and operate emergency accommodation and support services for women and children escaping domestic violence in the Tamworth community.
The Core and Cluster Sector Capacity Building Grants program supports the construction of new accommodation specifically designed for women and children escaping domestic violence. The Tamworth based refuge will be designed in the new Core and Cluster model, an innovative approach that provides women accessing the service with independent accommodation and access to critical services such as counselling, legal assistance, and further education on site.
This independent living model is a considerable improvement to the communal refuge accommodation that has been standard in crisis care for many decades and better meets the needs of individual families, providing women and children leaving violence the best opportunity for trauma recovery.
Under this partnership Housing Plus will construct and manage the property, with the accommodation and services being delivered by Tamworth Family Support Service who have operated in the Tamworth region for 44 years.
Justin Cantelo, CEO of Housing Plus says "It was important that regional communities benefited from the Government's funding for domestic and family violence accommodation. Our partnership with Tamworth Family Support Services combines our knowledge and expertise of design and construction with their local experience in service delivery. The best of both is what we hope will be provided in Tamworth."
Belinda Kotris, CEO of Tamworth Family Support Service, says "We are so excited to be working in partnership with Housing Plus. This project is an absolute game changer for women with children who have experienced domestic violence across our rapidly growing city. The support provided by our highly skilled and experience staff will allow the healing to begin from the moment they enter this facility."
This news follows initial funding announcement in October 2021, in which the NSW Government announced an historic investment of $484.3 million, for women and children experiencing domestic and family violence (DFV) - the single biggest investment in addressing DFV in the State's history.
The Core and Cluster Sector Capacity Building Grants program will provide $426.6 million over four years to build new Core and Cluster accommodation facilities across NSW. Once all three funding rounds are completed, and refuges are operational, more than an additional 2,900 women and children escaping DFV will be supported each year.
Accommodation provided will mean women and children impacted by domestic and family violence will be provided with a safe and supported environment to recover. This environment starts with safe, trauma-informed physical design and is complemented by a service delivery model that provides intensive support when it is needed most and a lighter touch when recovery begins. Support will be personalised and brought into the refuge. As victims recover, they will have a base to return to and continue to receive education and support.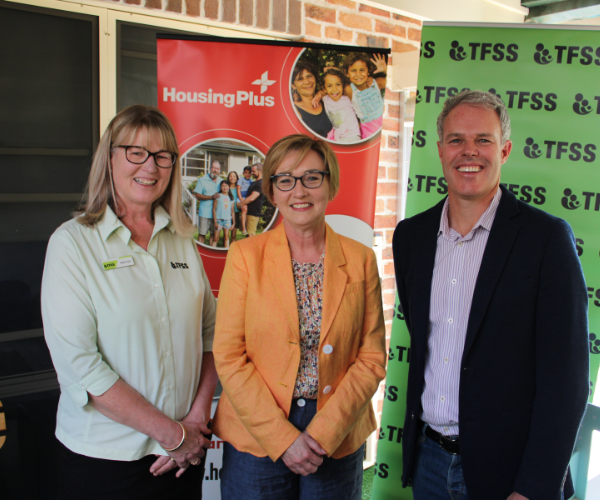 Photo (L-R): TFSS CEO Belinda Kotris, Minister for the Prevention of Domestic and Family Violence Jodie Harrison MP, Housing Plus CEO Justin Cantelo
---